Profile
NORDEUROPAforum first appeared in 1998 as a scholarly journal, at that time bearing the tagline, »Journal of Politics, Economics and Culture«. Since 2013, the subheading has changed to »Journal for the Study of Culture«. As a double-blind peer-reviewed open access journal, NORDEUROPAforum observes cultural studies of Northern Europe in Germany. We publish articles, reviews, annotations, and reports in German and English that cover the »greater« North: our publications address Denmark, Sweden, Norway, Finland, and Iceland, as well as Greenland and the Faroe Islands, the Baltic States, North-western Russia, the southern Baltic Sea area and trans-regional connections.
Publishing or submitting articles is free of charge. Your topic suggestions for articles, reviews or conference reports are always welcome!
Range of topics
By »the study of culture«, we mean the expansion of any humanities or social sciences research through a (cultural-) historical, political and social contextualisation. Our disciplines range from literary studies and linguistics to sociology, anthropology, medieval studies, historical and political science, to media, film, and art studies – and this list is in no way exhaustive. What is important is not the subject, but the scientific quality of the article and the approach towards the region.
In addition to publishing articles, NORDEUROPAforum regularly publishes reviews and annotations of recently released scholarly publications as well as conference reports that have a Northern European connection. We promote the German/European-Scandinavian dialog and see ourselves as a forum for the interchange of ideas in the Baltic Sea and North Atlantic regions. Through our social media channels (Facebook and Twitter), we provide timely information about the contents of our journal, as well as scholarly, cultural, and political developments.
Our editorial board is a team of eleven editors and 24 staffers, who reside both in Germany and abroad. NORDEUROPAforum is published on the edoc-Server at Humboldt-Universität zu Berlin. The editorial office resides at the Department of Northern European Studies of Humboldt-Universität zu Berlin.
Open Access und Quality Control
Since 2006, NORDEUROPAforum has been published exclusively as an Open Access publication on the internet. Upon positive evaluation our articles are peer-reviewed by two external experts (double-blind), before they get edited on close consultation with the author.
With this type of publication, we ensure that both authors and readers have free and unrestricted access to scholarly research.
Our submissions may be used without barriers and without limits. Authors' copyrights are protected.
The publication of articles is continuous. All articles and reviews are available individually or as a collected volume published at the end of the year. They are permanently stored on the edoc-server of Humboldt-Universität zu Berlin.
Creative Commons
Since 2019 all our articles are distributed with a Creative Commons licence "This article is an open access article distributed under the terms and conditions of the Creative Commons Attribution (CC BY) license which permits unrestricted use, distribution, and reproduction in any medium, provided the original work is properly cited (http://creativecommons.org/licenses/by/4.0/)".
The Creative Commons Affiliate Network includes over 500 researchers, activists, legal, education and policy advocates, and volunteers who serve as CC representatives in over 85 countries. Working alongside non-governmental institutions, universities, and public agencies, CC affiliates employ region-specific approaches to copyright and intellectual property that help solve local and global challenges.
---
History
NORDEUROPAforum – 1991 to now
Professional Journal 1991 – 1997
NORDEUROPAforum was launched in 1991 as a professional journal for politics, economics, and culture in Northern European countries. The journal was published quarterly until 1997 by NOMOS publishing and was widely circulated. The editorial office was originally located in the Institute for Scandinavian Studies at the Freie Universität Berlin. With the establishment of the Berlin Department of Northern European Studies in 1994, the editorship moved to Humboldt-Universität zu Berlin, where it resides today.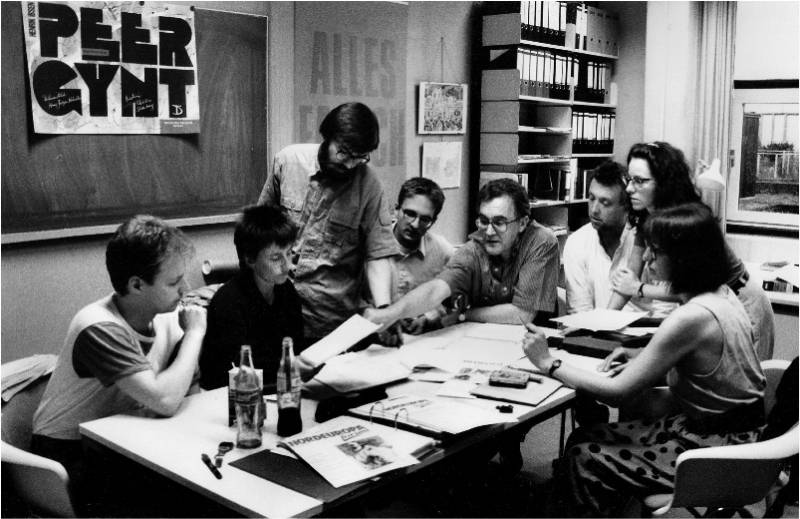 Our photo shows one of the first editorial meetings in the rooms of Freie Universität. It took place against the backdrop of Scandinavian media′s recognition of the creation of the journal and was an illustration in an article of the Norwegian newspaper Adresseavisen, from Trondheim. Bernd Henningsen (4th from the right), founding director of the Berlin Department of Northern European Studies, served, then as now, as the editor of NORDEUROPAforum. Among the nine-member editorial board is also Stephan Michael Schröder (3rd from the right). Still a research assistent in Berlin in 1991, he is now a Professor of Scandinavian Studies at Universität zu Köln.
In the following, we will document the central topics of Old Series, which ran from 1991 to 1997 as a large-format journal. The rest of the journals are made available upon request by the editorial office.
Year 1991: Nr. 1: Europe, Nr. 2: Transportation, Nr. 3: Environment, Nr. 4: New Hansa
Year 1992: Nr. 1: Education, Nr. 2: Tourism, Nr. 3: Media, Nr. 4: Women
Year 1993: Nr. 1: Regions, Nr. 2: Traditions, Nr. 3: Economy, Nr. 4: Health
Year 1994: Nr. 1: Security, Nr. 2: Languages, Nr. 3: Europe, Nr. 4: Foreigners
Year 1995: Nr. 1: High-Tech, Nr. 2: Water; Nr. 3: Engagement, Nr. 4: Design
Year 1996: Nr. 1: Identity, Nr. 2: Labour, Nr. 3: Baltic, Nr. 4: Pairings
Year 1997: Nr. 1: Nordism, Nr. 2: Sport.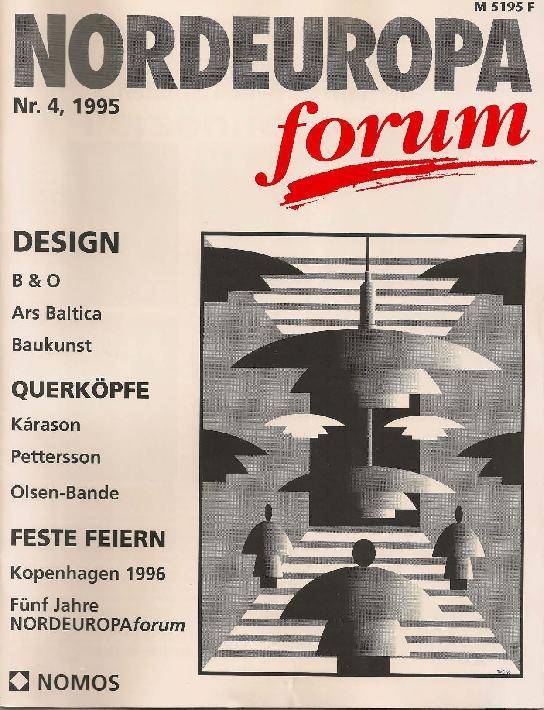 Scholarly Journal from 1998 to today
The New Series of NORDEUROPAforum has run since 1998 – until 2013, it had the tagline »Journal of Politics, Economics, and Culture« – as a purely scholarly publication. Until 2005, two editions were printed each year by Berliner Wissenschaftsverlag. At the time, they contained three to five articles and a steadily growing number of reviews and annotations of scholary literature. The editions of the New Series that existed only in printed form – years 1998 to 2005 – have been digitalised by now and are available for our readers for free in our archive.
With the publication of 2006′s volume, NORDEUROPAforum transitioned completely to open access publication. Since then, our articles and reviews have been published exclusively online on the edoc document and publication server at Humboldt-Universität zu Berlin, where they are made available free of charge.
After its first publication as an interdisciplinary academic journal in 1998, and the transition from print to digital publication, NORDEUROPAforum was again restructured in 2013: in order to reach a broader public and stay abreast of developments in academia and publishing, the journal changed its publication-frequency, and the focus of the content of the journal and its roster of editors and writers has been expanded. Instead of publishing two journals per year, we will publish our articles continuously as of fall 2013, in order to take advantage of the possibilities of an open access journal. In terms of content, the journal is now covering all branches of Scandinavian studies and Northern European cultural studies research. NORDEUROPAforum′s new tagline is »Journal for the Study of Culture«.
NORDEUROPAforum Information materials
The NORDEUROPAforum flyer and poster inform you about the journal's range of subjects, our open access policy and quality control.